All Purpose Recline Hydraulic Barber Chair Heavy Duty Salon Spa Beauty Equipment Black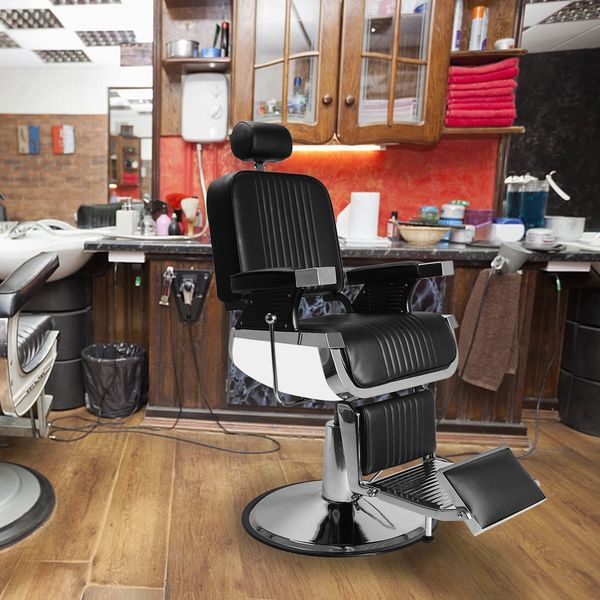 All Purpose Recline Hydraulic Barber Chair Heavy Duty Salon Spa Beauty Equipment Black
🛒 Still available, Click "Buy Now" Button to Place Order,
🚚 Free Fully Tracked Shipping for UK Mainland Addresses,
📦 Brand New in Box, Get Extra 5% OFF via Bacs Payment,
🔒Secure, Verified Payments via Facebook, PayPal & Bank Trans,
😀 Delivery to UK Mainland Addresses Est. 3-5 working days,
⭐ Returns Accepted - 30-day for all damaged or missing parts.
Introductions: 
This classic and deluxe barber chair would be a perfect addition for barbershop, beauty salons, tattoo parlours and more. Textured synthetic leather with premium foam padding provides a comforting place for your customer to relax. An elegant footrest provides support and allows for easy positioning of the client. You and your client will love the luxury and comfort from this timeless example of a quality.
Feature: 
1. Suitable for barbershop, beauty salons, tattoo shop, and more.2. Classic styling with modern flair, long service life, high quality workmanship, unmatched reliability3. Ergonomic designed to fit the natural shape of the human back, providing comfort and support to the low back4. High quality faux leather, textured satin finish is waterproof, stain-resistant and easy to clean5. Closed cell high density foam, provides extra comfort6. Heavy duty steel frame, more durable and stronger than aluminium with increased weight capacity7. Premium chrome round base, classic barber chair base provides stability and is easy to clean8. 360°swivel with locking mechanism provides versatility9. Comfort footrest offers extra support for your feet and permits easy rotation10. Double-reinforced saddle sticking provides a classic look while preventing damage to the leather11. Adjustable headrest can be adjusted, or removed completely if desired
Specifications: 
1. Material: PVC Leather High Density Sponge Stainless Steel Pedal, Handrail 
2. Colour: Black
3. Dimensions: (43.3 x 28.4)" / (110 x 72)cm (L x W)
4. Adjustable Height: (39.4-43.3)" / (100-110)cm
5. Sofa Weight: 55.1lbs / 25kg
6. Type: A Box
Package Includes:
1 x Step Foot Pole1 x Sitting Plate Iron1 x Cushion1 x Right Handrail1 x Backrest1 x Instructions