Men's Ascot Tie Cravat & Pocket Square Cuff Links - Wine Red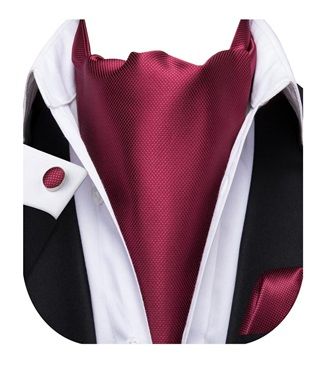 Men's Ascot Tie Cravat & Pocket Square Cuff Links - Wine Red
Victorian Ascot (Gentlemen's Day Cravat)
Suitable for weddings, talks and many more formal occasions.
Including matching Pocket Square (handkerchief) & Cuff Links.
Styles up your Tuxedo, Dinner Suits or Blazer.
British design by Barry Wang, well finished with sillky fabrics.
---
How to tie an Ascot:
1, Cross the long end of the ascot in front of the short end, then tuck it behind the short end,
2, Pull the long end all the way up and through, straightening the ascot around the neck for a snug but not uncomfortable fit,
3, Lay the long end back down in front. Ideally, the two ends are roughly the same length at this point, then straighten and pull the two sides of the ascot wide for an even, tidy look,
4, Tuck the ascot back into your shirt & you are ready to go!